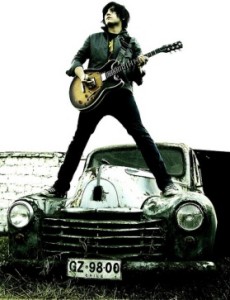 If you have attended a rock concert or any live stage performance by a big star, you know the heat when the performer rocks the stage and audience seems ready to burst with excitement. Even watching this on television, you can feel the beats and thumps.
If you are one such rockstar who is God to your audience, people follow your each and every move, whatever you wear becomes fashion, whatever you do becomes obsession, and so on, then this post is not for you. Rest of us, can follow.
Not all people become real rockstars. If they all become so, who would be the audience, right? Jokes apart, many people among us are very talented and get ample chance to exhibit their talent, whether in a college performance, any organization level event, or may be on cultural level in community or social events.
Many times I get a chance to witness such events and I wonder why, in many cases, they fail to leave an impact on the audience. Though I can see, they are filled with enthusiasm, talent and are very energetic, still audience lose interest after a short time and abandon them performing alone on the stage.
I analyzed many performances on different occasions on different levels and realized it is not about talent. Not being a rockstar doesn't mean that you are not talented. Its all about meeting audience's expectations. So, I compiled a list of checkpoints from audience point of view about how audience feel and what they expect from a performer. If followed properly, it will make sure that you rock every performance, no matter you are a rockstar or not.
Also, if you manage to thrill local audience, you may gradually reach the top and who knows you may also become a big rockstar someday.
Here goes the list:
Mind your Attitude, Don't behave like a superstar, audience wont accept:
When you step on the stage, do not assume that people love you. You have to accept that people have not come for you, rather you have come for the people.
Rockstars enjoy love of the people. Whatever they do, even if it doesn't make sense, people love it. Why? Because love is blind. But if you are not a rockstar, people do not yet love you, and you have to make them love you first. If you will show attitude or behave like a superstar, it will piss them off because they will not consider you better than themselves. So, whenever you give a stage performance always be gentle, thank the audience for allowing you to entertain them and start the performance.
Don't choose difficult songs, Choose easy but melodious songs:
I noticed, many times, performers choose most difficult songs to show how talented they are. They forget that audience has come to get entertained and not judge their talent. Always choose easy songs which you can sing even while performing some dance moves and at the same time those songs should be melodious too. However good you sing, if that song is boring or not entertaining, audience will soon lose interest and I am sure you do not want that. So, keep it simple, silly but entertaining.
Don't try to add professional audio-visual effects to songs if you cannot:
These days, with the advance of technology, we see a lot of audio-visual effects in songs. They are usually done in studios by professional people. If you cannot create that quality effect, never-ever include it in your performance, otherwise you will ruin it. Many people try to put breaking-sound-effect while singing. While a few are good at it, most others suck at it. People end up laughing and losing interest. If you believe that a song will not appeal audience without the desired effects and you are financially or otherwise incapable of including that effect, do not choose that song. Look for an alternative which doesn't need those effects.
X-Factor may ruin it all:
Many performers are singers as well as good dancers. While they sing, they try to show some fantastic dance moves. But if their singing is not good, these dance moves may prove them hiding the singing incapability behind dance moves. Try to involve X-Factor only when you feel you are singing your best. If you cannot focus on both the things together, then it is better to focus on one, rather than ruining both of them.
Rehearse as much as you can:
You are not a heartthrob of mob and so if you sing bad, people will show you the exit door. So, always keep practicing to be the best. Before an event, perform many dress rehearsals to make sure you are doing it perfectly. In case of rock bands, rehearsal is very important to maintain the sync among all the members. If you are well rehearsed, it will reflect in your performance and people will love it. You know what will follow.
Sync with the audience, unsynchronized excitement may prove fatal:
Many times, stage performers get so excited that they try to jump into the audience or try to involve them into singing. However this is not uncommon for stage performances, people need to be as much excited. If people are silent and waiting for something good to be played, your meaningless stunts won't work. Rather they may even drop you while you try to jump on them. You know how fatal it can be.
Respect your audience:
Always respect your audience and never be rude to them. If you want to be a superstar, it is the audience that will make you so. So, always try to have a connect with them through soft words, down to earth behavior and ever smiling face. Even if people shout at you, always close the performance with a warm thank you. People will respect you if you respect them.
Always remember the ultimate goal: "To Entertain":
Finally, the most important part of any performance is audience, and it need to be entertained. Always keep in mind that the ultimate goal of an artist it to entertain the audience. All other things are a by-product of how happy the audience is. If you remember your goal as an artist, you will be more focused towards performing well rather than losing focus by other less relevant factors.
---
Following above guidelines will surely help you to be a better performer and you can fire up the stage no matter at what platform you are performing, and someday you will become a big rockstar.
Hoping to get an invite to your concert.