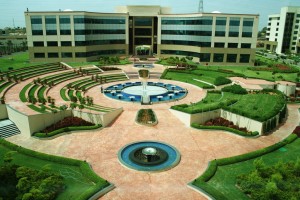 Its been 6 months since I left Infosys. Today, when I look back at all those days which I spent being a part of Infosys, I feel what I am today has been highly impacted by what I was being in Infosys.
It was a cold December when I first left the warmth of my home to join Infosys in a far away part of the country. And when I left Infy, I felt a similar warmth that followed me. And I felt like I was leaving home again, the new home.
When I joined Infy, I was just a college student. I had to learn a lot about life. And yes, I learned. I learned how to add value to the things I do, I learned how to talk to people who I do not know, I learned how to enjoy with people whom I do not even share the same culture, I learned how to see beyond what is visible, I learned to listen to the unspoken things and most importantly, I learned to keep learning.
A few years ago, I read "The Alchemist" by Paulo Coelho. It talks about the importance of journey and not destination. The destination is just to give us a direction. It is the journey that matters. The experiences of the journey of life help us appreciate the beauty of our surroundings, the complex world which works on its own with different people, parts fitted together seamlessly. While leaving Infy, I realized that it was never my destination. It was just a milestone of my journey.
The joy of reaching the destination is short lived. Once we achieve something, we start looking for the next goal and the life goes on. Seldom we identify what keeps us looking for new destinations. While on the way, we live dreaming about the destination, and when we reach there we cherish the experiences of the journey. Life is clever enough to keep us a step away from the present.
My journey in Infosys taught me to walk with the present. I saw people running towards things they think they want, leaving behind all the things they have. In that environment, it becomes hard to remain what you are. But once you realize this, life is never the same. Those people become your reason to live your own life to the fullest.
Even Narayana Murthy conveys this message to stop running and start living. But people are too much comfortable in the race, they hardly want to stop. This is really ironical.
Being in Infy, I realized two things: One, Narayan Murthy has created a great organization by following his values and virtues, and two, for a sizable chunk of people working there, those values are mere words to boast about. For me, those values are vital to any individual and people who follow these actually add value to Infy as well as their own lives.
The most important value which is my favorite is "Leadership by Example" or in simple words "Walk the Talk". Each day I strive to be what I expect from people around me.
During my Infy journey, I found some really talented and cheerful people whose lives are reflections of real joy and learning. Some of them involved in so many social activities, some of them organizing some entertainment events every now and then, a group of people going for adventures on a monthly basis and even a few people innovating new things using latest technologies without even being asked for. These are the people who made my stay in Infy worth remembering.
I hope Infy will retain such people and will find a way to utilize their potential to the fullest. To rise as an organization, Infy has to go beyond just being a software service provider and to find a way to tap the potential of the gems hidden among its few lakhs strong work force.
While closing this post, I want to share something interesting. Narayana Murthy left after a few months I joined Infy. It all resulted in huge chaos. I missed being guided by the regular insights of the great leader through his town-halls and common addresses. Co-incidentally, Narayana Murthy joined back just the next day I left Infy. I was sitting at Hyderabad airport waiting for my flight to home when I saw the news of his return. I was joyful. I am sure the company which I always loved will further go places.