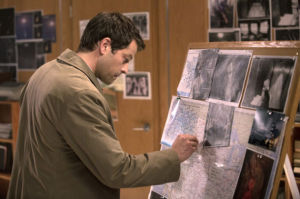 The house was surrounded by a huge crowd with puzzled faces, anxious to know the exact details of what happened. The barricade tape was stretched at the entrance indicating a barrier for the onlookers, and men in uniform were quietly going in and out without saying a word. Even media people were not allowed inside and it had created a very suspicious environment.
Inspector Roy was in-charge of the detective team and was trying to figure out what exactly happened. He went to the first witness of the dead body, Ana, who was shivering with fear while sitting in a corner surrounded by lady constables.
"She was brutally killed. I saw her lying on the floor, almost sunk in her own blood. It was a scary sight," Ana told Roy. She seemed devastated. She continued, "I work in her nursing home and came to give her a report file of a patient. The door was open and she was…," the woman fainted.
A lady doctor named Veena was found dead. The woman's face was crushed with a heavy object and she was repeatedly stabbed even after she was dead. The killer seemed to be very angry with her.
Different stories started circulating. Someone in the crowd was saying, "She was a very good gynecologist. She was there when I delivered my baby. She was so much supportive. Its pity that she got such a fate. Whoever killed her must be hanged."
Another woman agreed, "She delivered almost all the babies in this neighbourhood. She was a gem. It seems to be a personal grudge for someone to kill such a good hearted lady like her. Have they identified the killer yet?"
There were critics as well. "But she was not very helpful. Usually she kept to herself and did not provide discounted or free consultation even to her neighbours. Once I went to her clinic on a busy day. It was full of patients. I thought, being a neighbour, I can get past the waiting line. But when I approached her, she rudely told me to wait for my chance."
"Don't you think it shows her dedication to rules and ethics. I don't think she was wrong here. But yes, that is true that she was totally money minded. She could charge you even for speaking to her."
"Whatever you people say, I am always in her debt. I think she was a true angel of god. I got my baby boy only because of her. She had a lucky charm. Did you notice, she delivered most of the boys here. So, many houses got their heirs only because of her. We should not speak ill of her."
There were no signs of forced entry which showed that the killer was someone known to her and trustable enough to allow into the house. A shoe print in the blood revealed that the killer was a male.
Roy was aware of the problem in identifying the killer based on the clues collected so far. A doctor meets hundreds of people every day and all her patients are known to her. It is difficult to find someone in the huge patients list of a successful doctor practicing for more than 10 years. But the killer was out and had to be found before he killed someone else.
Next day, Roy got a news. Ana was found almost dead in her house. Someone tried to kill her by suffocating her with a pillow when she was asleep. May be due to her house located in a crowded area, the killer did not get enough time to make sure that she was dead.
Somewhat relieved, Roy finally saw some hope to find the killer. Ana definitely knew something and he was going to find out what. Next day when doctors discharged Ana, Roy started interrogating her. She was already scared and was almost ready to blurt out everything.
"I am so sorry. I never wanted to be a part of this. But I needed money to support my family. Doctor Veena was involved in the business of getting rid of unborn girl child for those who wanted only a boy child. She performed sex determination of unborn child and aborted it if found a girl. The man who killed her is Ramesh. He is the husband of one of her patients who gave birth to a baby boy last week." While telling this, she got scared again, "And he is going to kill me. I am a fool to tell him everything."
The woman started crying badly and fainted again. She was again gone for at least a few hours. Though the story was incomplete, Roy got sufficient clue to find the killer. It may take sometime to find Ramesh. At the same time, Roy was disgusted with the idea of female foeticide. In a corner of his heart, he believed that Veena got appropriate punishment for such a hideous crime.
However with this incomplete story, Roy got more confused. He was unable to find a motive for this murder. The situation was clear. Ramesh wanted a boy. So he took help of Doctor Veena who may have helped him by performing sex-selective abortion earlier and finally getting him a boy. Hospital records showed that Ramesh consulted Veena 5 times in last 4 years for seemingly fake health issues of his wife. Clearly, girls were identified first 4 times and were aborted to finally get a boy in the fifth time. This means Ramesh should be happy with Veena.
But instead, he killed her. And he tried to kill the nurse too. Ana said she told something to Ramesh which resulted in all this. "What did she tell her?" Roy wondered hoping to hear it from either Ana or Ramesh as soon as he could.
Within 6 hours, Ramesh was arrested from a relative's house where he was hiding. He was still very angry and was unhappy that he could not finish Ana. "Yes, I killed Veena. She was a monster, a bitch. And her subordinate, Ana, she is a bitch too." Ramesh shouted out loud.
"But why? It seems they helped you to get a baby boy."
"They did. But Veena took away my children. I lost all of them. I believed her and this is what she did to me. She killed all of them. And that Ana helped her in all this," Ramesh broke down crying.
"So you did not want to kill the girls?" Roy was even more confused.
"I wanted to."
"Then why you killed her?" Roy was losing his patience because of the unclear answers from Ramesh.
"These doctors have a special package where they help you to find out the gender of unborn baby and if found girl, they will abort it themselves. Four times I went to her and got my baby aborted to get a boy next time. I was so happy last week when I finally got my baby boy in my hands. He is my heir. He will carry forward my legacy." Ramesh paused to take a breath.
"Yesterday I got to know from one of my activist friends about some wrong doings in Dr. Veena's hospital. While in doubt, I confronted her nurse on her way to hospital who knew me very well due to my earlier visits to the hospital. She revealed a shocking truth to me. Many times Dr. Veena used to identify boys as girls so that patients will pay her extra for abortion. All the four times, I had boys, and she killed all of them, just to get some more money. I lost four of my boys. All because of that bitch, murderer." Ramesh knelt crying badly.
Roy was stunned.
Ramesh continued, "She was an animal in this society. So I killed her and did a good thing for the society."
Roy's blood boiled up. He could not believe his ears. He kicked Ramesh breaking his nose. A stream of blood burst out from Ramesh's mouth and nose on the floor.
"You are a murderer. You are also a burden to this society. How can your crime of killing unborn girls any better than Veena cheating you. You deserved this, so did she. But those four innocent unborn babies, no matter boy or girl, were supposed to be alive. And you are going to get the worst punishment of your life for this."
Roy left with a determination to ensure that Ramesh gets appropriate punishment for his crime to set an example for the society so that people think many times before doing anything like this. Also, Veena was found guilty of the hideous crimes, her hospital was closed down and her license was revoked posthumously. This was a good example for practicing doctors to keep them away from female foeticide.
Roy knew that the root cause of the problem was in the basic thinking process of society and these punishments are not enough to eradicate this evil. But he was happy to contribute as much he could in his capacity.
Note: As a matter of fact, sex determination of unborn child and sex-selective abortion is illegal in India as millions of unborn girls are killed every year in the desperation to get a boy child. In a country where so many goddesses are worshiped, it is unfortunate to witness such a fate of a girl child.